Send Inquiry
Salt Spray Tester Machine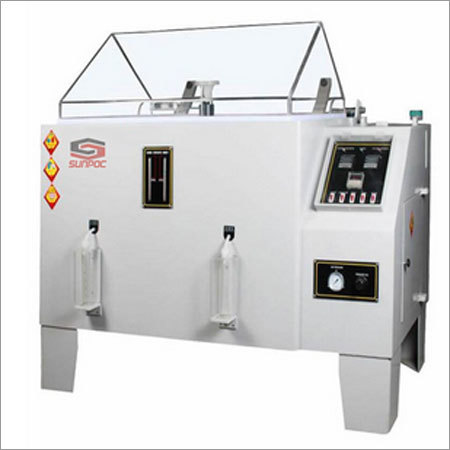 Salt Spray Tester Machine
Product Code : SP-HL-90
Price And Quantity
Minimum Order Quantity
1 Set
Price
1 USD ($)
Our Salt Spray Tester Machine is widely used to check the anti-erosion quality of the surface of all materials after the rustproof of painting, anodizing, coating and electroplating and rust -proof of greasing. It is used to test the mechanical operations of all the parts and rust resistance of the completely charged extinguisher against weather condition. This testing machine find its application in production site, workshop and laboratory in the factory. In addition, it can get from us in different technical specifications to our customers. Salt Spray Tester Machine is widely used to test rust resistance of paint, surface coating, chemical, electronic and aerospace.
Technical Specification :-
Standard:
DIN 50021: Salt spray testing
JIS Z2371 Methods of Salt Spray Testing
SGM-GM4465P Water Fog Humidity Test
ASTM B117 Standard Practice for Operating Salt Spray Apparatus
ASTM D1735-99 Standard Practice for Testing Water Resistance of Coatings Using Water Fog Apparatus
ASTM G85 - 11 Standard Practice for Modified Salt Spray (Fog) Testing
ISO7253:2001 Paints and varnishes – Determination of resistance to neutral salt spray (fog)
ISO9227-2012 Corrosion tests in artificial atmospheres – salt spray tests
ASTM B368-97 Standard Method for Copper-Accelerated Acetic Acid-Salt Spray (Fog) Testing (CASS Test)
ASTM B380-97(2007) Standard Test Method of Corrosion Testing of Decorative Electrodeposited Coatings by the Corrodkote Procedure.
NSS serial:
can option LED touch screen.
Machine adopts P.V.C material, corrosion resistance, easy to clean, no leakage phenomenon.
Have button type intelligent temperature control instrument, multiple sets of PID automatic routing,
High control precision, instrument can also be equipped with LCD touch screen.
108 l, 270 l testing machine cover adopts acrylic transparent roof, more than 480 l model adopts hard P.V.C plastic board, cover automatically opened and closed by cylinder, enclose the window light, may at any time to monitor the spray state machine and working state of the sample.
Tower spray system and device have salt liquid filter, no crystallization nozzle, spray uniform distribution, settlement free adjustment.
Sample number was laid (150 * 70 mm), such as 48 pieces can be placed in a 15 degree Angle, such as 32 can be placed in 30 degrees.
After completion of the experiment, with automatic mist device, the sample (s) can be observed clearly.
Clearance or continuous spray optional, multiple protection system, the use of safe and reliable.
CASS serial:
Adopts PVC&PP hard plastic, solid structure,acid, high temperature corrosion and alkali endurable, never aging. Ideal for neutral salt fog NSS, acetic acid test along, copper acetate CASS and other experimental requirements.
It use plastic precision nozzle and conical spray, nozzle long service life,mist evenly fast, no crystallization.
With USB interface, can insert U disk to download historical data (the alternative recorder.
Internal control, spray time without additional time relay.
Using LED LCD touch screen, can connect with computer to realize remote monitoring and operation, can be arbitrary switching in both Chinese and English.
Through the flow meter, high pressure valve to regulate brine flow and pressure of compressed air, to ensure uniform settlement of salt fog.
Use the manual water system, water shortage with the function of automatically added, make sure continuity of test.
Specification list:
Model

NSS

SP-HL-90

SP-HL-120

SP-HL-160

SP-HL-200

CASS

SP-AHL-90

SP-AHL-120

SP-AHL-160

SP-AHL-200

CCT

SP-AHL-90

SP-AHL-120

SP-AHL-160

SP-AHL-200

Interior dimensions (mm)

W

900

1200

1600

2000

D

600

850

1000

1200

H

500

600

600

600

Exterior dimensions (mm)

W

1460

1900

2600

3000

D

910

1150

1450

1650

H

1280

1500

1550

1600

Chamber Tank

270

480

800

1440

Solution Tank

50 L

90

90

120

Testing Temperature

NSS ACSS 35℃±1℃ / CASS 50℃±1℃

Air Temperature

NSS ACSS 47℃±1℃ / CASS 63℃±1℃

Solution Consistence

NaCl 5%

PH Value

NSS (Nacl) : 6.5~7.2 / CASS(Cu / CH COOH ): 3.0~3.2

Temperature fluctuation

± 0.5℃

Temperature uniformity

≦2. 0℃

Temperature Resolution

0.1℃

Spray quantum

1.0~2.0(ml/80cm2/h)

Chamber Material

polyvinyl chloride (P.V.C & P.P)

Heater

Corrosion-resistant titanium tube

Temperature sensor

Platinum Resistance (PT-100)

Safety device

Over-temperature protection , leakage protection

Ambient temp. & humid. range

+5℃ ~ +35℃ / <85%RH

Power Supply

AC 220V/50HZ/1P AC 380V/50HZ/3P
Trade Information
FOB Port
Shanghai
Payment Terms
Telegraphic Transfer (T/T)